​Cosmetic dentistry has been on the rise in the last few years, considering more than 25% of Americans would change their smile or teeth to enhance their self-esteem. In addition, approximately 300,000 people receive dental implants each year assessed and positioned by a dentist or prosthodontist. If you are among those considering cosmetic dentistry, Dr. Marlie Sanchez is your go-to expert in Miami-Dade County.
In this article, we discuss some of the services Dr. Marlie Sanchez offers and where to get them and book an appointment. Ensuring you have healthy teeth and good oral health is our priority.
When is a Dental Crown Necessary?
Dental crowns are a versatile and effective solution for various dental issues. They are often necessary when a tooth is damaged, decayed, or weakened and can no longer be repaired with fillings or other conservative treatments. The following situations warrant the need for a dental crown:
When protecting a decaying weak tooth from breaking
Restoration of a broken or severely worn-out tooth
Covering and supporting a tooth filled with a large filling when a large part of the tooth has broken down
Holding dental bridges in place
Covering a dental implant
Cosmetic modification
Dental crowns are not just for adults. They can also be an effective solution for children's dental issues. They may be necessary when a primary tooth is damaged, decayed, or weakened and cannot be restored with fillings or other conservative treatments. Some other instances where dental crowns would be used for children include:
Save a tooth that has severely decayed and cannot be supported using a filling.
Protect a child's tooth with a high risk of decay, especially for kids with difficulty keeping up with their oral hygiene.
Decreasing the number of times a kid is put under general anesthesia while treating severely damaged teeth.
A dental crown has three steps for the overall procedure: initial examination, preparation, and treatment. Here's a closer look at these procedures: 
Your dentist will take a few X-rays to check the roots of the decayed tooth and its surrounding bones. If you have severely decayed teeth and have a risk of injury or infection of the pulp, your dentist may recommend root canal treatment.
Your dentist will anesthetize or numerate your tooth and its gum tissue. Your dentist will then reshape its chewing surface and sides to create enough room for the crown. They will remove the crown depending on the types of dental crowns you will choose.
You can choose between permanent and temporary dental crowns. Temporary crowns protect the newly shaved tooth before the dentist makes the permanent ones.
You can also choose your dental crowns depending on the materials used. These materials include the following:
Metal
Stainless steel
Porcelain-fused-to metal
Resin
Zirconia
All Porcelain or all ceramic
Once the dentist reshapes your tooth, they will use putty or paste to create an impression of the tooth that will receive the crown. To ensure that your bite is not affected, our dentist will also take an impression of the tooth above and below the one receiving the crown.
Finally, your dentist will send the scans or impressions to a laboratory to manufacture the crown. They will then receive the crown in two to three weeks. If you prefer porcelain dental crowns, choose a shade that closely matches the color of your teeth.
The treatment process starts with the temporary crown and checking whether the permanent one matches the other teeth. If everything is in place, they'll use local anesthesia to numb the tooth and permanently cement the crown in its place. ​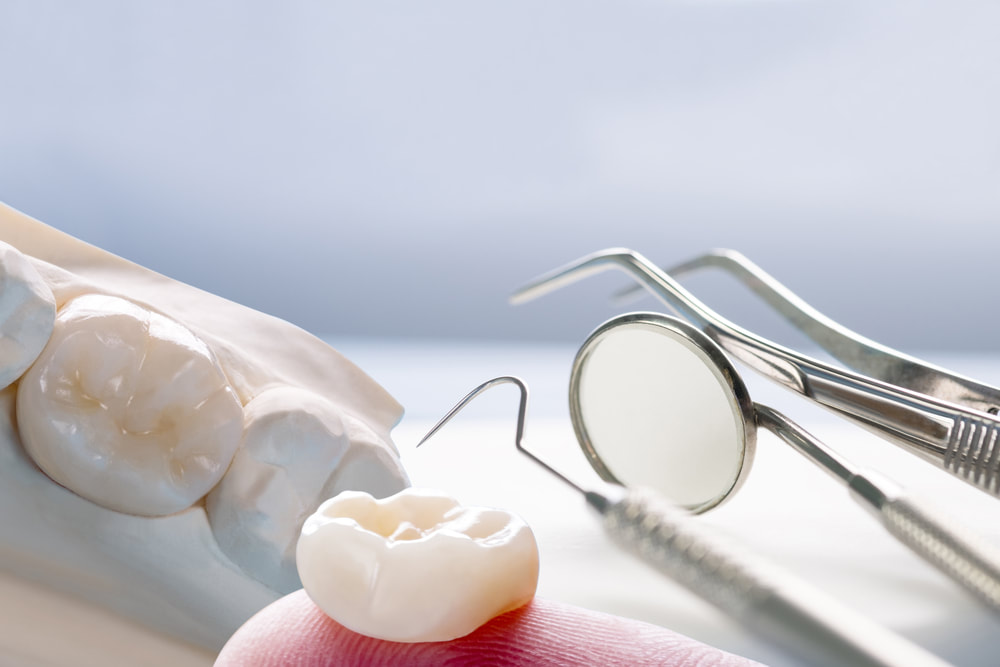 Caring for a Dental Crown
Caring for a dental crown is similar to caring for your natural teeth. Proper oral hygiene and regular dental check-ups are essential to maintain the health and longevity of the crown. Some basic care includes:
Avoid chewy or sticky foods that can grab and pull off the crown.
Minimize using the side of the mouth with the temporary crown.
Avoid chewing hard foods.
Floss your teeth by sliding rather than lifting while cleaning the space between your crowned tooth and its neighboring teeth.
Benefits of Dental Crowns
Dental crowns offer a variety of benefits, including restoring the shape, size, strength, and appearance of a damaged or decayed tooth. You can achieve the following benefits by using dental crowns as your dental treatment procedure: 


They help relieve discomfort from the sensitivity to pressure and temperature caused by a decayed tooth. 
It's a simple procedure 
Dental crowns are custom-made for you 
They are suitable options for restoring the appearance of your teeth
They are long-lasting 
Dental crowns Services in Hialeah Gardens, FL
Don't let a damaged or decayed tooth keep you from smiling confidently. At MSG Dental, we specialize in crafting custom dental crowns to restore the health and appearance of your teeth. Our team of experienced dentists uses the highest quality materials and state-of-the-art technology to ensure your crowns are both durable and natural-looking. Take the first step towards a brighter, healthier smile, and contact us to book your appointment at MSG Dental today.